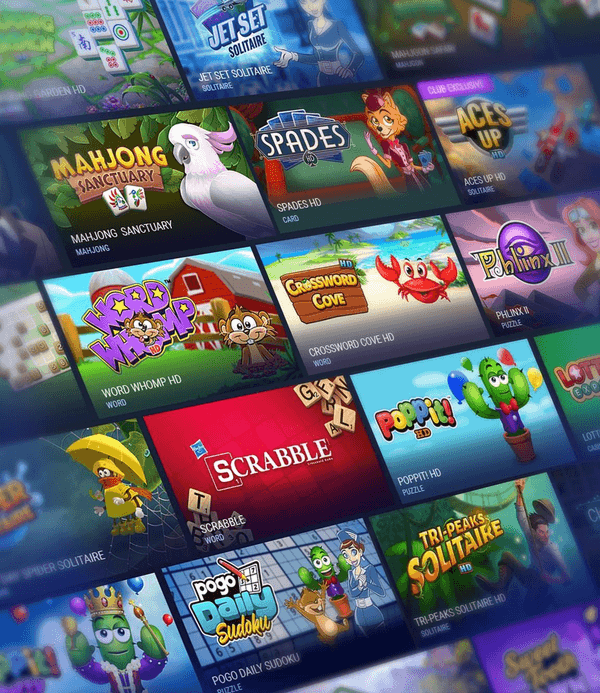 There are currently 66 Pogo games in a variety of categories, which you can play on your computer, tablet or phone, 11 of which are only available to Club Pogo members.
Share this page with your Pogo friends:
https://pogofans.com/games
We offer Tips & Tricks for many of these games on Pogo. Keep track of your daily tasks by checking out our Daily To-Do-List page. Additionally, our What's New & Coming Soon page will keep you up to date on all the most recent Pogo Games news and what to look forward to in the coming weeks.
Also, visit our Pogo Weekly Challenges page to see what the current and upcoming challenges are, and our Pogo Constellations page to see what the current constellation is, tips on earning Pogis and to keep track how much time is left.
The games listed below are all the current Games on Pogo.
If you are looking for Pogo Games information, or need any assistance, please leave a comment on one of the following game pages below :
There are Pogo games for everyone, whether you want to relax with a casual game of solitaire, challenge your brain with a crossword puzzle, or compete with other players in a multiplayer game. In addition, Club Pogo members can earn Pogis and badges while play the games.
Some of the most popular Pogo Games are:
– Scrabble: Test your vocabulary and spelling skills in this word game.
– Mahjong Sanctuary: Match tiles and collect animals in this relaxing mahjong game.
– First Class Solitaire: Travel in style with this online solitaire card game.
– Crossword Cove HD: Head seaside and play a new crossword puzzle every day in this online word game.
– Word Whomp HD: Spell as many words as you can from the given letters before time runs out.
– Canasta HD: Make your melds in this classic online multiplayer card game with retro flair.
– Sweet Tooth Town: Help Mayor Toothy create the ultimate sweet retreat in this online match-3 puzzle game.
– Bejeweled Stars: Swap gems and create matches of three or more in this addictive puzzle game.
To start playing these Pogo games, all you need to do is sign up for a free account on Pogo. Also, you can upgrade to a Club Pogo membership for a monthly or yearly fee, which gives you access to more games, no ads, exclusive perks, and more.
Playing Pogo games is a fun way to spend your time online, whether you want to play alone or with others. You can enjoy a variety of games that suit your mood and preferences, and discover new games that you might like.