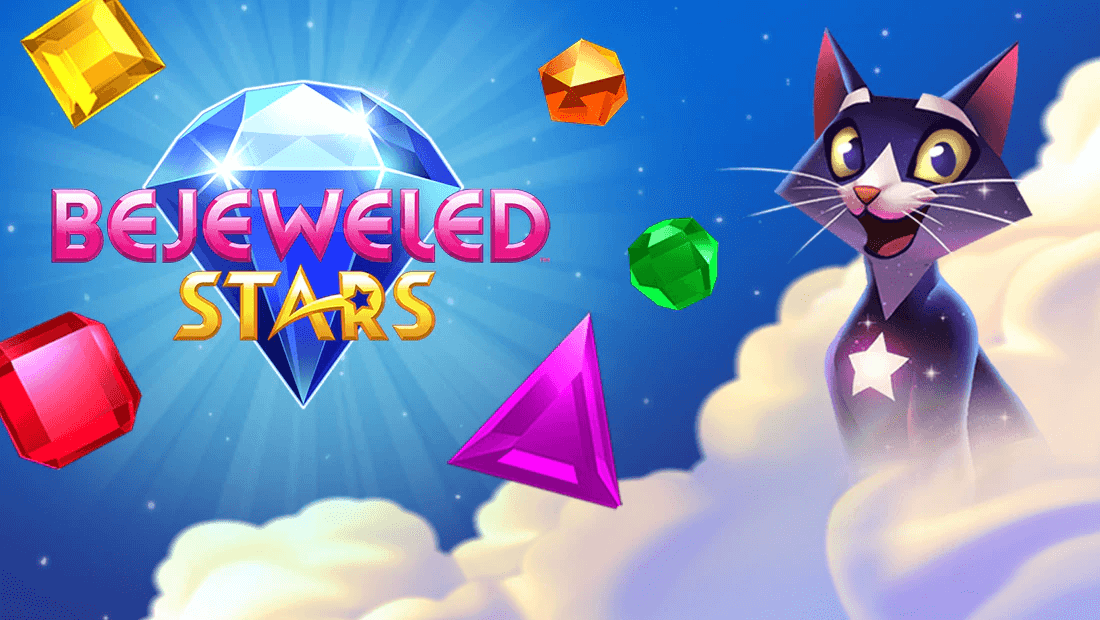 Bejeweled Stars is an online match 3 game on Pogo, where you match colorful gems, deploy explosive powers, and collect stars to rebuild the night sky.
In this Pogo game, you'll hop across floating islands, taking on hundreds of levels along the way. Overcome clouds, glaciers, currents, butterflies, and other beguiling obstacles on your journey. Make crafty matches to create special gems and light up levels with fire and lightning. Master wondrous powers like Hammer or Blazing Steed to quickly blast away priceless gems with ease.
How to Play
In Bejeweled Stars, each level victory earns you up to three stars you can use to rebuild the night sky. As you fill in the Clusters and Constellations above, you'll unlock bonus gold coins and powers to aid you in the levels ahead.
Club Pogo members will enjoy unlimited lives and a new daily puzzle every day. Members can also embark on seasonal Felis's Fantasy adventures, meeting whimsical characters and taking on limited-time puzzles. You can win up to two badges and lots of shiny rewards with each adventure.
Power-Ups
You have to be at certain levels in order to purchase the power-ups with gold coins instead of Pogo Gems.
There are a total of 12 power-ups for you to choose from.
Here is the list of power-ups and what level you can buy them with gold coins:
Flame Swapper – After level 6
Scramble – After level 21
Hammer – After level 35
Flutter Gust – After level 50
Star Swapper – After level 90
Tile Swapper – After level 110
Hyper Swapper – After level 125
Moustache – After level 146
Detonator – After level 170
Blazing Steed – Finish Constellation 1
Rain Deer – Finish Constellation 2
Tips
Take your time, as there are no time limits. You can analyze a level, look at all the gems on the board, and work from there to make sure you are making the right moves.
If you match five in a row, you'll get a Hypercube. This allows you to get rid of all gems of a certain color, based on the color of gem the Hypercube collides with.
Also, if you mix two special gems together, you can get much more devastating effects that take out a lot more pieces and score more points.
You can find even more tips on our Bejeweled Stars Tips page.
Visit our Pogo Tips page for more tips on other Pogo games!
Play the game here : https://www.pogo.com/games/bejeweled-stars