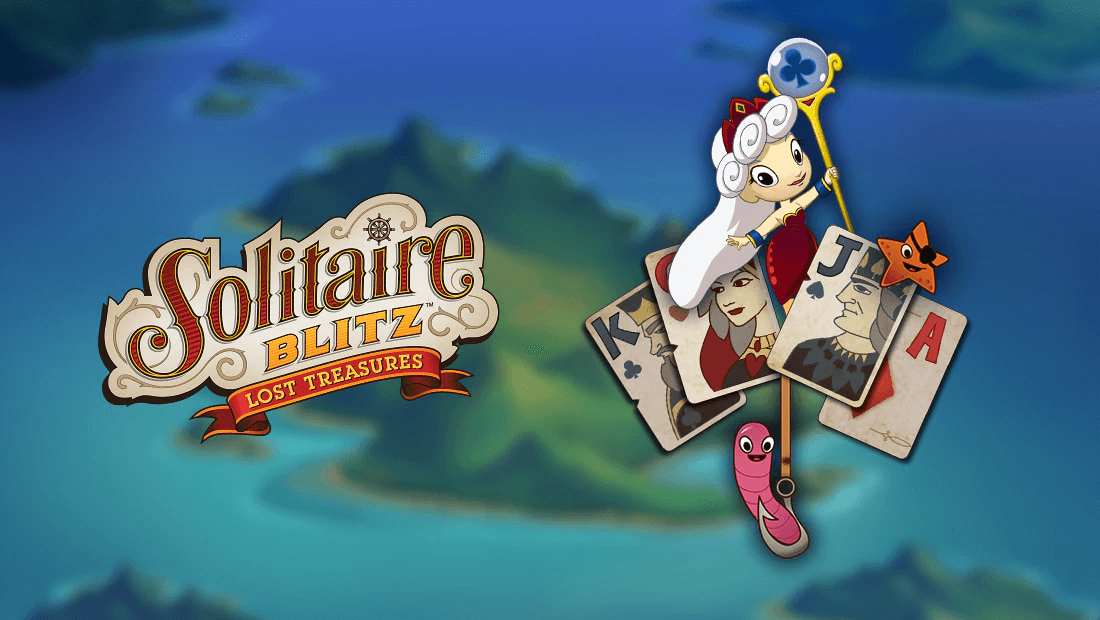 Solitaire Blitz is an online solitaire game on Pogo, where you are a sea captain who dives for treasure in the Caribbean and help Pearl, Otis, and your other crew members as they explore the seas for valuable treasure.
How to Play
In Solitaire Blitz, you need to play cards that are lower or higher than those in the build pile and string together long card runs in this fast-paced 60 second game.
Card suits don't matter in this solitaire game. Keep an eye out for the Joker, as any card can be played on him.
To win, clear all your cards from the build pile before the timer runs out.
Power-Ups
There are a total of 14 power-ups for you to choose from:
Extra Time: Adds 30 seconds to the clock
Double Time: Doubles the time on the clock
Extra Cards: Adds 13 cards and 1 joker to your deck
Spare Joker: Have a spare joker next to your deck
Extra Jokers: Adds 2 jokers to the deck
Starting Joker: Ensures that you first draw a joker
Mine: Explodes an entire row of cards
Double Mine: Explodes an entire row of cards, twice
Depth Charges: Explodes several cards in a stack, twice
Bonus Fish: Starts your score multiplier at X2
Key Magnet: Attracts all key cards to the top
Spyglass: Tells you when to draw from the deck
Starrgh-fish: Makes 6 fast moves without breaking your run
Run Finder: Flips cards face up if they are on a run
Tips
Before starting, take a look around other 6 stacks and check whether there are cards that can be played on the run.
Try to keep your stacks balanced. This will give you a better chance to clear all of them at the last moment.
Always try to make long runs, because it will give you lots of points. Small bursts of 4 cards gives around 1000 points per card once the fourth card is clicked.
Club Pogo members get to explore the mysterious Island of Atlantis every time it rises from the briny depths.
Visit our Pogo Tips page for more tips on other Pogo games!
Play the game here : https://www.pogo.com/games/solitaire-blitz