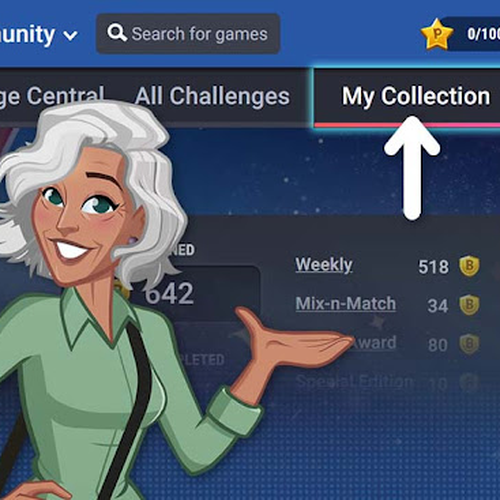 The new and improved My Collection Page is now available to all Club Pogo members!
This "My Collection" page gives you an overview of your entire badge collection and tracks your progress on completing badge albums.
It's a handy resource that let's you see what challenges you have left as well as all your historical stats as a Club Pogo member.
You can find the My Collection page by clicking or tapping on "Challenge" from the navigation menu at the top of Pogo and selecting the "Challenge Central" link.
The page sections are organized into Albums. For Weekly Challenges, the Albums are organized by year. With Mix-n-Match challenges, new Albums are automatically created as your collection grows.
Clicking or tapping on any badge inside an Album will bring up an information card, covering challenge goals, Pogi rewards, time limits and more.
If you're a long-time Club Pogo member, you'll see some unique Albums for older badge types that are no longer available – such as Legacy Badges and Premium Badge Albums.
Pogo wants to make sure they included all your accomplishments, past and present.
What do you think about this new My Collection page? Let us know in the comments below!