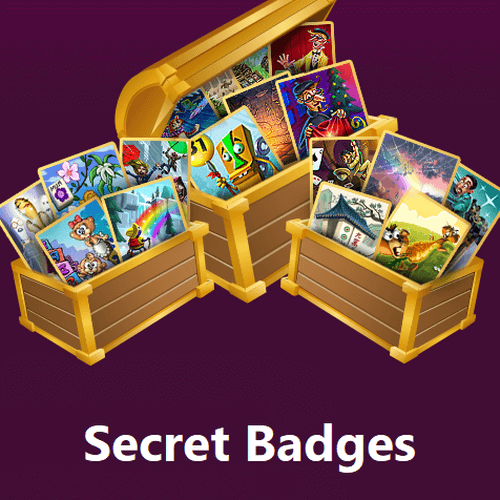 Here is a list of Secret Badges on Pogo that are earned by completing in-game achievements in various games.
The badges can be found in your Game Award or Special Edition album.
Note that these badges can no longer be earned, as those games are now retired.
In addition, view our list of Super Secret Badges which are awarded for completing an album that contains 20 Mix-n-Match badges.

Get a Royal Flush (without using Jokers) to earn this badge

Get 4 aces in a hand (without using Jokers) to earn this badge

Get dealt four hole cards of the same rank to earn this badge

Terrifically Tenacious Badge
Miss 50000 times to earn this badge

Sink 2500 Battleships to earn this badge

Play through 2000 Panic Flips to earn this badge

Get 750 Jackpot Spins to earn this badge

Spell the word 'BADGE' to earn this badge

Find a word of 10 or more letters to earn this badge

Defeat 2500 aliens to earn this badge

Inflate 3000 giant balloons to earn this badge

Win a special type of Blooop game and earn this badge

Complete 100 Perfect Pen Puzzles to earn this badge

Complete a puzzle in 15 minutes or less 100 times to earn this badge

Fill a month's worth of puzzles to earn this badge
Pass 25,000 wild pine cones to your teammates to earn this badge

Blackout 25 cards to earn this badge

Power to the Flower Badge
Play 5000 or more games with 50% or more of the wins involving a power-up

Win 5000 games to earn this badge

Make Flowers Not War Badge
Convert 100,000 flowers to win this badge

Score perfectly on all five holes to earn this badge

Master Treasure Hunter Badge

Finish 50 random puzzles in unlocked puzzle mode


Stupendous Scratcher Badge
Complete 20,000 scratcher cards


MONOPOLY The World Edition
Get out of jail, only to re-enter jail on the same turn

MONOPOLY The World Edition
Getting Crowded Here Badge
Have all four players land on the same space. (Starting the game at Go doesn't count)

MONOPOLY The World Edition
Roll double-sixes three times on the same turn



Make 50 Holes-in-One to earn this badge

Complete 99 holes under Par to earn this badge

Stomp all 36 buildings in one continuous chain to earn this badge

Scrabble 8 8-Letter Words Badge

Scrabble 100 Points Badge
Score 100 Points on a turn

Scrabble 500 Bingos Badge
Become an official NSA member and you get this badge

Earn 100 points in a single move to earn this badge

Answer 450 Questions without any revealed misleads to earn this badge

Earn 75 bonus wedges to earn this badge

Natural Royal Flush Badge
Get a Royal Flush (without using Jokers) to earn this badge

Get 4 aces in a hand (without using Jokers) to earn this badge

Thousand Island Solitaire
Pick up 14,000 treasure chests to earn this badge

Thousand Island Solitaire
Gotta Deliver 'Em All! Badge
Deliver 30 unique items to earn this badge